FUNCTIONAL & STRONG
Strong Humans
We are a small family business based in Twickenham. We started making sandbags on the dining table and our ethos is pretty basic - we like to keep it simple!
Functional training. This phrase is thrown around in many different training arenas and is often made out to be technical and complex, which it does not have to be.
Simplicity is key. Shifting load through basic movements has always been an effective way of improving strength and overall well-being.
Our kit is crafted with one goal – to make you stronger, healthier and happier in the most simplistic and functional way.
"tfench has been an amazing partner for Strength in Depth. The love, care and attention that goes into their craftsmanship means the products stand up flawlessly to the rigors of competition. We could not recommend them enough."
Mens Health UK
Sandbags featured in Mens Health UK
'Using an unstable load such as a sandbag, forces you to recruit more muscles in unison to execute a move's full range of motion" (May 2021)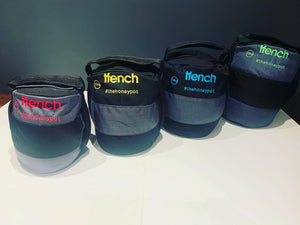 tfench
Honeypot
Sale price Price £50.00 Regular price Unit price / per
Can't find what you are looking for..
Just because we have launched our online shop, does not mean that you are limited to the products that are advertised on this website. If you can't find the colour or weight that you are looking for or if you just have a crazy idea that would like to try out, let us know at sandman@tfench.co.uk or DM us on Instagram @tfench.
Get in Touch
Thank You
A massive thank you to all of our friends and family who have supported us, from the dinning room table days or if you are just joining us. Thank you to all the amazing athletes in the photos and to the talented photographers who bought these pictures to life. We couldn't have done it without you all.